The 2022 Chevy Suburban: All Passengers Welcome! 
When you need to haul a lot of people, look no further than the 2022 Chevy Suburban from Moritz Chevrolet. Starting at $52,400, this big SUV will get everybody where they need to be across the greater Dallas/Fort Worth area.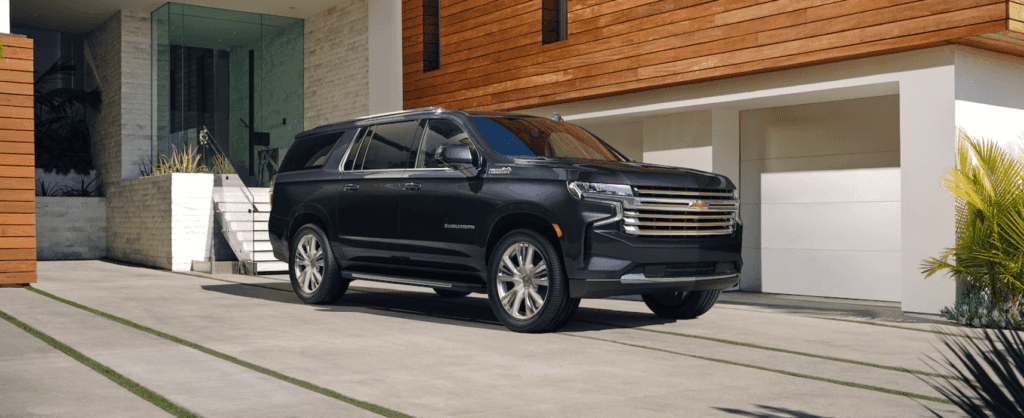 Big Volume and Big Power for Big Families
The team atMortiz Chevrolet has got you covered with the 2022 Chevy Suburban. We know that people looking for large family SUVs need a large cargo volume and some serious horsepower, and that's where the Chevy Suburban shines. 
You'll get a maximum available horsepower of 420, and a maximum cargo volume of 144.7 cu. ft (best-in-class, thank you very much). Those growing teens will appreciate the spacious legroom in the second and third row. The Chevy Suburban is not small or weak, and that's exactly what you need to accommodate all those lovely kiddos on their way to band rehearsal and football practice.
Handling and Trim Options for Your Budget
Head to Moritz Chevrolet and our team of Chevy dealers can show you the different trims for the 2022 Chevy Suburban. You'll have your pick of 12 different trim options and engine configurations for 2WD, and 14 different options and configurations for 4WD.
The 10-speed automatic transmission will give you all the gears to get where you need, plus a maximum towing capacity of 7,800 lbs with the most powerful engine options.
Tech Meets Safety to Keep Your Loved Ones Safe 
Some of the coolest things about this Chevy vehicle are also some of the things that makes it a safe choice for your family. The available Head-Up Display is a class-leading, multi-color windshield display that can give you safety alerts (if equipped), project turn-by-turn directions for the driver, and display incoming calls – all without requiring the driver to look away from the road. 
The Chevy Suburban also offers up to 13 class-leading camera views to help you see around your large SUV. It's next-level stuff for your next-level family!
At our Chevy dealership in Fort Worth, TX, we are proud to partner with you in the search for the right vehicle for you and your family. If you're looking for an SUV that will accommodate every last member of the family, come on in for a test drive of the 2022 Chevy Suburban.