2022 Chevy Camaro – Your Cabin, Your Cockpit

Ride Into the Sunset Behind the Wheel of the 2022 Chevy Camaro
Bold, beautiful, and with a roaring engine that must be experienced in person, the 2022 Chevy Camaro once more proves that it deserves a spot among top muscle cars. Between its legendary performance and numerous options to express your unique style, there are more reasons than ever to love this roadster at our Dallas, TX Chevrolet dealership showroom.
2022 Chevy Camaro – Designed to Draw Attention
With an unmistakable style defined by a robust body with classic angular contours, the 2022 Chevy Camaro is more than a vehicle; it's an icon of automotive excellence. From its aggressive front end to the vintage-style extruded rear fenders, this sports car never fails to catch the eye.
Packaged to Taste
The 2022 Chevy Camaro is available in numerous aesthetic packages, from the racing-inspired Redline Edition to the dynamic Shock and Steel Special Edition, outfitted with four-piston Brembo® brake calipers.
2022 Chevy Camaro – Power that Howls
Four exceptional powertrains distinguish the 2022 Chevy Camaro, beginning with a rock-solid turbocharged inline-four rated for 275 horsepower, while a V6 engine serves up 336 horsepower with 284 lb-ft of torque, capable of propelling this car from standstill to 60 miles per hour in just over five seconds.
For the ultimate expression of all-American muscle, the 6.2-liter supercharged V8 engine standard on the top-tier ZL1 trim cranks out a screaming 650 horsepower and 650 lb-ft of torque. That's enough power to send this new Chevrolet car from zero to 60 in only 3.5 seconds.
Plus, available features like the Magnetic Ride Control™ system allow you to hug the pavement even tighter at high speeds, delivering responsive handling with an exhilarating racing feel.
Track Performance Data
The 2022 Chevy Camaro can be outfitted with an available Performance Data Recorder, which can help keep tabs on your vehicle's power for review.
2022 Chevy Camaro – Your Cabin, Your Cockpit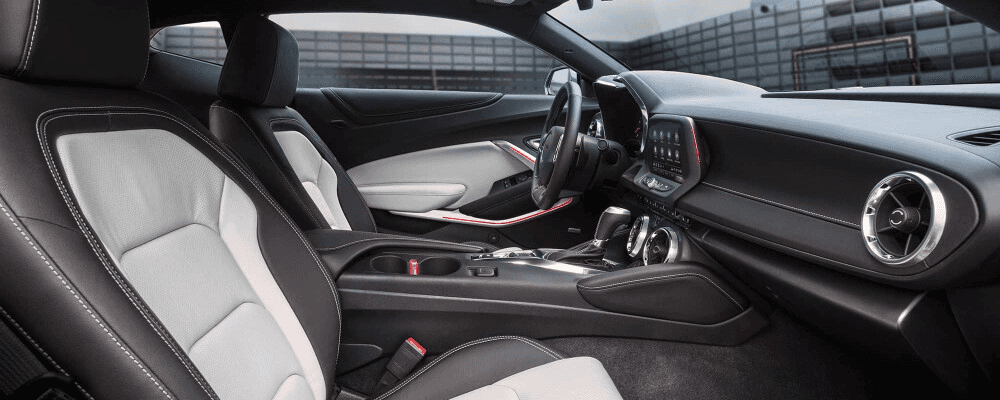 The interior of the 2022 Chevy Camaro is sleek, minimalist, and driver-centric with an intuitive array of controls and the crisp Chevrolet Infotainment 3 System that makes controlling media and compatible apps through Apple CarPlay® and Android Auto™ a breeze.
There's no shortage of additional high-tech features available on the 2022 Chevy Camaro, including available interior ambient lighting that lets you set the perfect mood for any drive and a heads-up display that projects your speed, directions, and other safety warnings unobtrusively on your windshield.
Test Drive the 2022 Chevy Camaro Today
If you're looking for the best of American muscle, don't make any compromises and choose the 2022 Chevy Camaro. To experience this magnificent beast for yourself, get in contact with our team of Chevy dealers or visit us online at Moritz Chevrolet and schedule your test drive today!