Five Reasons You Should Always use Chevrolet Parts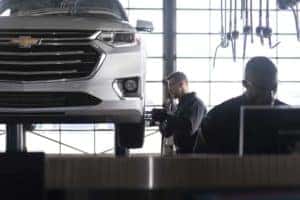 If something goes wrong in your vehicle, you want to make sure that your mechanic is doing the best repair job possible. That's why the mechanics here at Moritz Chevrolet only use Chevrolet parts when we repair your vehicle. Here are a few reasons why.
They're Built for Your Vehicle
Each Chevy part has been built with your vehicle in mind. You know that these components are going to work the way they are supposed to and that they're meant to deal with the rough conditions that your vehicle might face, whether you're towing a heavy load or giving the all-wheel drive system a workout on some rough terrain.
They're Generally More Reliable
The other thing about OEM parts is that they are often more reliable. There are plenty of aftermarket manufacturers out there, producing parts. The problem is that these manufacturers and their components can vary in quality.
Maybe you can find a good parts maker out there, but it's going to take a lot of work and research to find one that offers the same reliability as official Chevy parts would.
They're Backed by Warranties
Another thing to remember about all of these aftermarket parts manufacturers is that they don't just vary in quality. They vary in how they back up their parts too.
Some might offer a warranty, but you'll once again have to sort through all available options to find a parts maker that seems reliable and offers the warranty option you're looking for. Simplify things and get the official parts, which you know come backed up by the company that built your car.
If you're looking for a reliable Chevy service center near Fort Worth, TX, then our facility should be your first stop. Schedule an appointment with our mechanics and get your car back into top shape today.