Does it Matter What Kind of Oil I Put in my Chevy?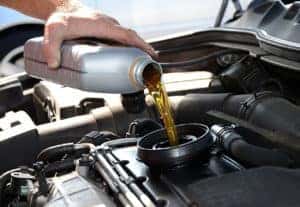 If you want your vehicle to last a long time, sticking to a routine maintenance schedule is important. One of the most critical bits of maintenance is the oil change. At Moritz Chevrolet, we can easily handle this for you, and we can also answer any questions that you have about what oil you can use in your vehicle.
Finding the Right Oil
Generally, checking your owner's manual is the best way to figure out what kind of oil you need. In many cases it will tell you what kind of oil works better for your engine.
Sometimes you have multiple options though, so it pays to learn a bit more about all types of oil. In many vehicles, your best option for high performance is likely to be fully synthetic motor oil. This is usually more expensive, but it's the best at lubricating most types of engines.
There's also synthetic blend motor oil. This, as the name implies, is a blend of standard motor oil and synthetic oil. This is less expensive than fully synthetic oil. Standard oil is also less expensive than synthetic oil but might not offer the performance you need in certain vehicles.
Finally, there's high mileage motor oil. This is ideal for Chevy cars and trucks with more than 75,000 miles on the odometer. This type of oil is better at keeping older cars in top shape.
Additionally, you need to take a look at the viscosity of the motor oil being used. Different combinations of letters and numbers on the package can give you an idea about what situations an oil is best used in. For example, 10W-30 motor oil is great for driving in warm temperatures.
Getting Your Oil Changed
If you're in need of new oil or any other type of maintenance, visit our auto parts store and Chevy service center in Fort Worth. We'll make it easy to get the right supplies so that you can get the most out of your Chevy vehicle!