Best Chevy Trucks for Towing Boats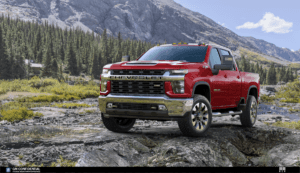 If you have a boat, you need a truck that can easily move it. Fortunately, we offer a number of capable Chevy trucks here at Moritz Chevrolet. We'll help you sort through the engine options and available models to ensure that you drive away in a new truck that has no problem towing your boat, no matter what size it is.
How Much do Boats Weigh?
One good thing about boats is that many of them weigh less than you would expect. So you probably don't have to buy a specialized pickup truck just for towing your boat. A midsize truck that functions fine as a daily driver might be all you need to tow your boat.
Many boats, like skiffs, aluminum fishing boats, and small sailboats, can weigh less than 1,000 pounds. A deck boat, wake boat, or cuddy cabin usually weighs around 3,000 to 5,000 pounds. Larger sailboats, between 20 and 30 feet in length, can weight up to 8,000 pounds, while larger models like cabin cruisers can max out at 16,000 pounds.
Chevy Trucks That Can Tow
Once you know how much your boat weighs, you can figure out which truck works best for you. Our midsize truck, the 2021 Chevy Colorado, is perfectly capable of towing many types of boats. Its default engine provides it with enough power to tow up to 3,500 pounds, but it maxes out at 7,700 pounds of towing capacity with an available turbo-diesel engine.
The 2021 Chevy Silverado 1500 offers even more towing capacity. When properly equipped, it can tow up to 13,300 pounds! These two models are likely enough for any recreational mariner's towing needs, but if you want to learn more about our heavy-duty models we can answer any questions about those too.
Visit our Chevy dealership serving Dallas, TX and find the perfect pickup today!