2022 Chevy Silverado 2500 Towing Features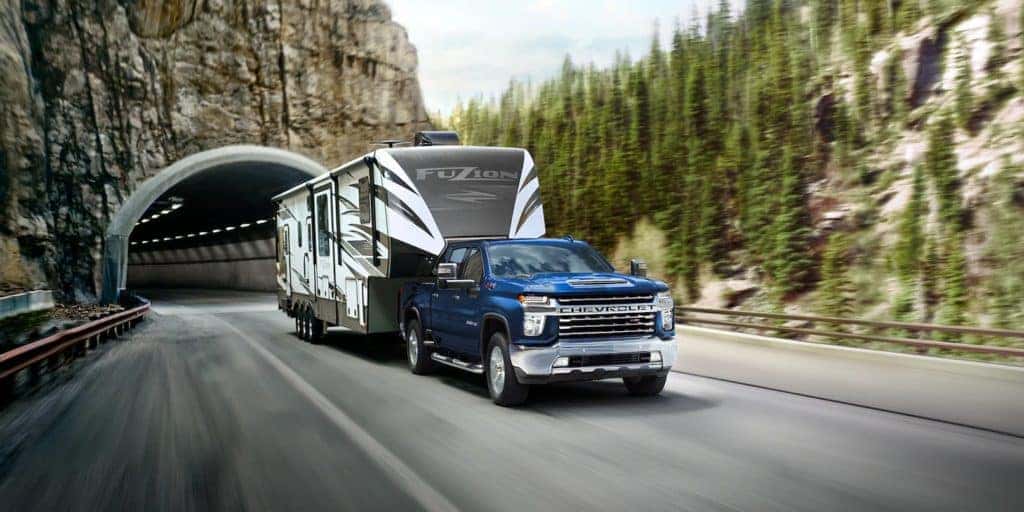 The 2022 Chevy Silverado 2500 is ready to handle just about any towing job. It can be equipped with powerful engines and plenty of features that make it easy to haul heavy loads, and the dealers here at Moritz Chevrolet can help you build a new pickup that offers the power and capabilities that you need.
Towing Capacity
The 2022 Chevy Silverado 2500 can tow up to 18,150 pounds when properly equipped. There are two engines available and a few other features that help determine exactly how much your truck can tow. Whichever options you choose, this pickup is ready to impress.
Chevy Towing Features
Duramax® 6.6-liter turbo-diesel V8 engine: This engine has an output of 910 lb-ft of torque. You can't max out this Chevy truck's towing capabilities without it.
Gooseneck trailer: This allows you to tow a bit more with the gasoline engine, if you chose that over the turbo-diesel option. Gasoline-powered pickups can tow up to 14,500 pounds normally, but that capacity rises to 17,370 pounds with this gooseneck hitch.
Multiple camera views: This pickup truck offers you up to 15 camera views so that you can see every part of your vehicle. While this is useful for everyday driving and pulling into tight parking spots, you'll find all of these cameras even more useful when you're towing something heavy.
Advanced Trailering System: This innovative feature allows you to create customized trailer profiles using your infotainment system and myChevrolet mobile app. If you have something that you tow often, like a boat or another vehicle, you can program it in and ensure that your pickup is ready to haul it every time.
So if you're looking for a hard-working truck that won't let you down, visit our Chevy dealership near Dallas. We'll help you build a capable 2022 Chevy Silverado 2500 that can handle anything that's thrown its way!